Online Fitness & Nutrition Training
Ready for Summer
30-Day Reset
Take Control of Your Fitness
Are you ready to hit the reset button?
We all live busy lives and sometimes our health gets left at the bottom of the priority list. Join a community of women who are putting their health back on track— Sign up for the 30 Day Reset today!
Our program gives you small goals to achieve everyday, turning your health into a habit. Expertly curated workouts, recovery day activities, stretching & mobility, mindfulness, nutrition, and hydration— all in one app.
Join our community! With our programs, support, and a community of hundreds of other women just like yourself, together we will make the simple changes that make a lasting impact.
How it works
Download the app & follow along
Once you have the app, this program can be done anywhere with 2 dumbbells. Access detailed workout strategy videos and a full movement library.
Our main Focus is on Consistency— do a little bit every day and develop healthy nutrition and fitness habits.
Once you turn your focus to what amazing things your body can achieve the rest starts to fall into place!
With our fun challenging workouts you will build strength and see results!
Happy Training!
"So fun. It's a great workout and I love the social component. I can workout with my friends, but I don't have to leave my living room!"
"Terrific balance of fitness, nutrition and mobility exercises— it even has activities for rest day. Finding consistency has been really great."
Sign Up Today
30 Day Reset starts May 1st, 2023
3 workouts per week delivered via the App with instructional movement videos.
Professionally programmed workouts and detailed training strategies
Each day there is a 10 minute Warm up, 10 minute Strength focus, 15-25 minute metabolic workout, finishing with a 5-10min Core accessory routine.
Total time is around 1 hour. If you have less time in your day, scaling options are available.
The app suggests various active recovery ideas and breathwork and mobility exercises for your off-days.
Meal planning ideas & recipes
Ability to track body biometrics
Daily habit reminders for nutrition, sleep, and hydration.
On-demand educational nutrition & fitness videos.
all you need is 2 Dumbbells!

Depending on your fitness level, we would recommend 2x 15-20lbs Dumbbells. If you are more advanced, then use 25-35lbs Dumbbells.
Our mission is to support the overall health and fitness goals of our members in a way that enables our growing community to have fun, perform at their best, and stay safe.
Meet Your Coach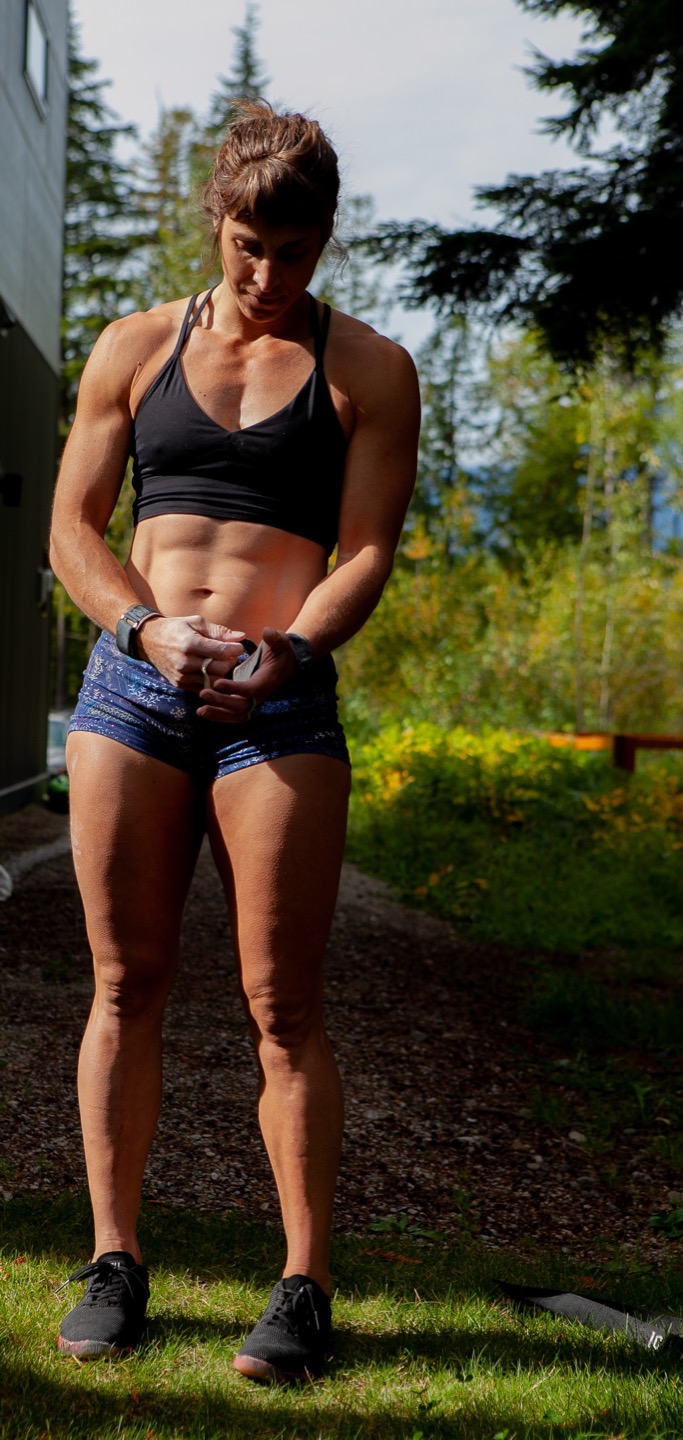 I am a gym owner personal trainer and full time coach. But I haven't always been this way.
I have struggled with an eating disorder most of my life. I was anorexic from the age of 14-20 yrs old. I recovered from my eating disorder but still had very restrictive eating habits well into my early 40's.
It wasn't until I started CrossFit in my early 40's that my perception started to slowly shift. I began my nutrition coaching journey taking many courses and through this my own eating habits started to get better. My body started to change and I started to embrace being strong and muscular.
My focus shifted to what my body can do versus simply the aesthetics. This has been so liberating. Life is a journey and we all have had our own struggles, what I specialize in is helping women embrace their bodies and I work to support their goals.
She spends her spare time with her husband Turner and her 2 daughters enjoying time outside hiking, biking and skiing.
Resume:
CrossFit Level 2 Trainer
CrossFit Kids Trainer
CrossFit Weightlifting
CrossFit Gymnastics
Pilates instructor
TRX Group Suspension and Functional Training Instructor
COREFLEX- Level 1 Coaching and Conditioning Specialist
Join our Newsletter
Sign up to receive FREE WEEKLY WORKOUTS! Never miss a monday. Get access to free workouts, nutrition tips, exclusive promotions and way more.